Nomad Atlas: Your Procurement Roadmap
Nomad Atlas breaks mobile operations procurement into five easy-to-understand phases. Follow the map, achieve success. We'll be with you every step of the way. Ready to get started? Jump in at the links below. Need some basics? Check out the Overview Page
Phase Five // Collaborate + Innovate
Nomad doesn't make "products" or close "transactions." We build integrated mobile operations solutions and lifetime partnerships. We will work with you after the sale to ensure flawless performance, develop measures of success, demonstrate ongoing value to stakeholders, and tell your story to the world.
Price is what you pay. Value is what you get. -Warren Buffet
The Nomad Customer Success Model
Customer service is too often reactive. It waits until something is broken. We prescribe a more proactive approach. Your progress is our driving purpose, and we have forged a four-point philosophy that keeps customers at the forefront. The program is unique to your needs, ever-evolving, and always seeking new ways to deliver exceptional, measurable value.
01_Define Success
The foundation of a lasting partnership is built on well-defined and communicated expectations. First, we'll solidify your success metrics (not an entirely new exercise, as these were outlined early in the project). We will create specific milestones that indicate your mobile operations initiative is meeting its objectives, and establish joint accountabilities for demonstrating the achievements. Keep in mind, the metrics will likely grow and change over time as you show continual value to stakeholders. Metrics could include things like asset utilization, system downtime, response and deployment time, operations and maintenance costs, and training hours. You might also consider metrics that show broader impact, like media coverage, community feedback, asset sharing, and environmental incentives.
HAZARD // The more organizations and/or stakeholders involved in your mobile operations initiative, the more rigorous you will need to be in gaining across-the-board consensus on success metrics. As always, strive for clear, consistent communication and be the bridge that joins people with different viewpoints or competing interests.
02_Measure + Maintain
With desired outcomes defined, it is vital to conduct regular reviews and share the findings. In this arena, Nomad Total Command (NTC) software provides immense value, reporting on system health, connectivity, deployment data, and other key performance indicators. The system can alert users not only of problems, but also when preventative maintenance and other milestones are approaching. Furthermore, Nomad's warranty plans and dedicated, in-house service department ensure your asset is protected 24/7.
03_Optimize + Innovate
The lifetime value of mobile operations can be greatly increased with sustainment and I.T. refresh programs, which update and upgrade hardware that can no longer keep up… At a fraction of the cost of an entirely new solution. You may also find that your asset could be modified to better serve its mission. Nomad stands at the ready for these adjustments. We'll make sure you're aware of advancements, trends, regulatory changes, and other shifts. We'll provide ongoing education and connect you with like-minded customers. Likewise, you'll be in a perfect position to enhance our understanding of wins, pain points, and changes in your sphere of operations.
04_Advocate
There is power in sharing stories. Coordinated co-marketing, events, testimonials, and referrals amplify everyone's efforts. You become a valued, sought-after leader, and others experience the exceptional quality and mission-driven approach of a Nomad solution.
CUSTOMER STORY // In 2006, Nomad built a mobile telemetry trailer for the U.S. Army Aviation Flight Test Directorate. The project was successful by all measures, and led to a half-dozen more contracts. The individual who championed the projects became known among his peers as a mobile operations expert, which led to a string of promotions for him, and even more contracts for Nomad. Takeaway: Trusted partnerships make everyone smarter and stronger.
05_Summary
Committing to work together over the long haul is a force multiplier. Leveraging one another's experience, perspective, connections, and influence leads to greater understanding, better solutions, superior service, and continual, easily-proven value.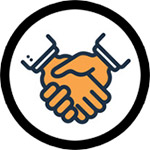 HANDSHAKE // Phase five is a lasting, evolving partnership. Both you and Nomad see the exponential value created, and agree to contribute ongoing time and resources. Explore Nomad Atlas further…
1: Assess // 2: Tour // 3: Launch // 4: Accomplish // 5: Support
In this always-on world, how can mobile operations benefit you and those you serve?