The tactical edge. Sounds like a dramatic landscape from a big screen blockbuster, doesn't it? The visual fits, since "the edge" refers to environments where communications are constrained, often by natural disasters or other emergencies. Scenarios like these call for swift, confident responses, and in July of 2021, Verizon introduced a new superhero to meet the world's toughest connectivity challenges. Enter, THOR.
Verizon (a Nomad GCS customer) is always imagining innovative ways to serve the public safety and defense sectors. One such exercise in "the art of the possible" hatched the Tactical Humanitarian Operations Response vehicle (THOR). The THOR concept was bold; to bring world-leading Verizon Frontline technology to the tactical edge on a rugged, future-ready platform.
What is Verizon Frontline?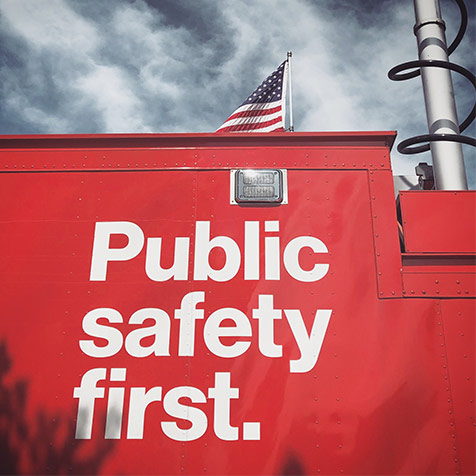 Verizon Frontline is a suite of advanced, interoperable solutions for first responders, from connectivity and ops, to apps and devices. These solutions are brought to bear by the Department of Defense and agency partners in the public sector, as well as by the telco's own Verizon Response Team.
Cory Davis, Verizon Frontline Director of Public Safety Operations, expands on how THOR serves the mission. "Verizon Frontline is on the cutting edge when it comes to leveraging 5G capabilities to support public safety agencies, and THOR is one of the latest demonstrations of how we're bringing the best of emerging and existing technology and network solutions directly to first responders – meeting them where they are – as we have for three decades."
Why Nomad GCS?
Since 2002, Nomad has solved tough challenges at the intersection of mission mobilization, operational control, and always-on connectivity.
Our engineer-to-order process lets us rapidly innovate alongside our customers, never limited by "the way it's always been done." For a solution like THOR, at the tip of the tech spear, this approach is vital.
"Working with Nomad, we were able to create a platform that could provide our public safety partners with high-quality, mission-critical communications capabilities no matter what the network conditions," Verizon's Davis said.
A Bit of a Stretch
Typically, a project on the scale of Verizon Frontline's THOR would require a year to complete. Nomad shipped in 92 days. The feat required the strategy of a chess Grandmaster, always thinking 10 moves ahead, but adapting and choreographing the pieces in real time.
While Nomad designed, engineered, and planned IT integration for the first-of-its-kind platform, partner shops worked their own magic. Tulsa Truck Manufacturing performed a chassis stretch and 4×4 conversion on the Ford F-650 chassis, then delivered the vehicle to Custom Autos By Tim (CABT) for some truly epic body mods.
[envira-gallery id="17102″]
System Online
In early July of 2021, Verizon introduced THOR to the world. In the year between that launch and the publishing of this article, the vehicle has garnered widespread recognition and acclaim, even earning a spot on the Popular Science "Best of What's New" list.

Verizon Frontline unveils THOR: mobile, 5G rapid-response command center
Verizon Frontline recently unveiled a first-of-its-kind, Tactical Humanitarian Operations Response (THOR) vehicle at Marine Corps Air Station (MCAS) Miramar, continuing an ongoing partnership between Verizon Public Sector and the Department of Defense through NavalX and the SoCal Tech Bridge. Read on Verizon.com

Verizon demos THOR, its new vehicle for frontline rapid humanitarian response
Heat waves, wildfires, hurricanes, typhoons and many other types of weather-related disasters create huge challenges for infrastructure providers like energy utilities and telecoms, who have to keep uptime as close to 100% as possible for their customers even in the midst of some of the most challenging environments humans have ever witnessed. Read on TechCrunch

Verizon has unveiled THOR, a custom Ford F650 that can deploy a satellite dish, 5G mast, and drones to respond to natural disasters and emergencies
Considered the "Swiss Army Knife of Verizon Frontline services," THOR combines Frontline technologies, like drones, 5G Ultra-Wideband (UWB), mobile edge computing (MEC), and radios, into one central command center. Read on Insider

Mobile network and disaster response center, all in a truck
Verizon's THOR is a mobile all-in-one vehicle built for disaster response. The rig can restore cell service on its own 5G or LTE mobile network, which is powered by a small retractable cell tower and satellite uplinks. To help first responders, THOR can also launch a tethered drone or a fleet of winged robots to see the surrounding area, capturing useful real-time information about what is and isn't passable terrain. Read on Popular Science

Social Media Dispatches
With publishing behemoths like TechCrunch and Popular Science taking notice, it's no wonder LinkedIn and Twitter also lit up with THOR sightings. From those close to the project's development, to others in awe just to stand in the truck's sizeable shadow, the social-sphere has offered no shortage of engaging posts and powerful pics. Here are just a few…
With THOR, "Tactical Humanitarian Operations Response" Verizon truck that can put up 5G upon deployment after a storm… At Governor's Hurricane Conference pic.twitter.com/Fmr43PXSjE

— Sandra Shaw (@wpbf_sandra) May 12, 2022
A Feast (Beast?) for the Eyes
You've heard the backstory and read a bit of the Internet buzz. How about some eye candy to round out this super-sized superhero tale? Enjoy a handful of THOR photos…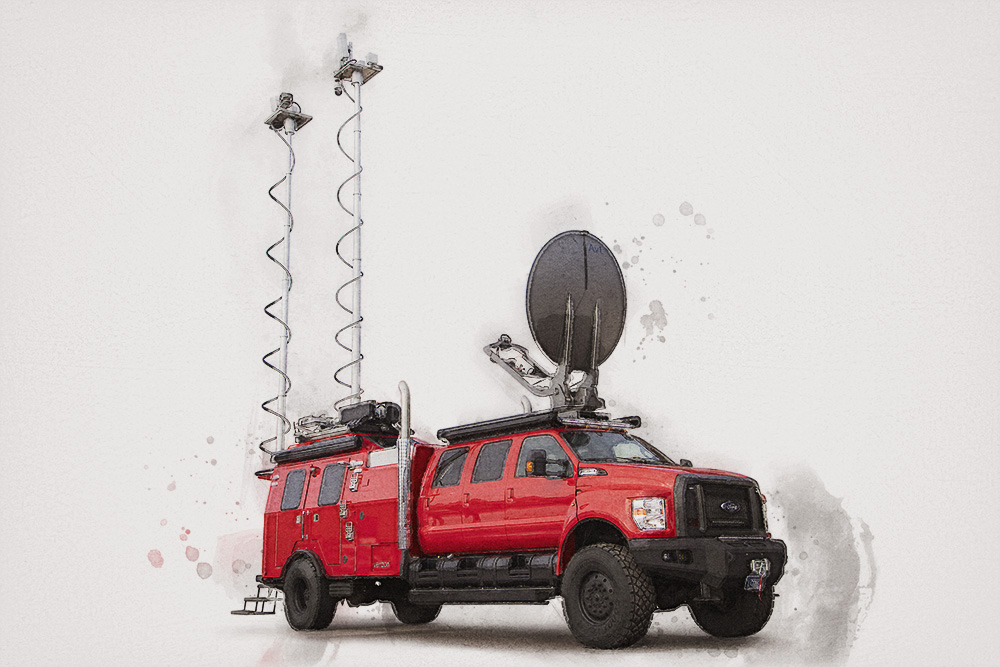 [envira-gallery id="17185″]
What's Next?
It's clear that the disaster response challenges of tomorrow will require new, supremely capable solutions. Interoperable technologies built on rugged, flexible, mission-driven platforms. Systems that work simply and simply work… When every minute matters. With the THOR prototype, Verizon Frontline and Nomad GCS have captured imaginations and inspired public safety and defense professionals to think big.
Rest on success? Hardly. Cory Davis puts it plainly; "We're just getting started."
Nomad partners with the world's leading telco, utility, and defense industry innovators.
How can we serve you?